The Europatat Congress
To mark Europatat's 70th Anniversary, the 2022 Europatat Congress will be organised in Dublin (Ireland), right before the official opening of the World Potato Congress. The Europatat Congress 2022 will kick off with an networking reception on Sunday 29 of May, and will follow with internal meetings and the General Assembly (only for members) on Monday 30 May. Mark your calendars and don´t miss the opportunity of re-connecting with colleagues and friends from the European potato community in the exceptional atmosphere of the Royal Dublin Society, located in the heart of Dublin.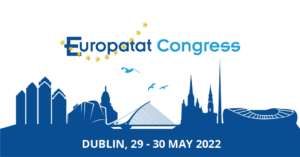 Registrations for both the Europatat Congress and the World Potato Congress are now open. You can register now here and benefit from the Early Bird fee available until 14 February!
We look forward to welcoming you to Dublin! For further details, visit wpc2022ireland.com or contact us.
Europatat Congress 2021
The last edition of the Europatat Congress took place virtually on 10 June 2021. Under the slogan "Stay connected – new strategies for the potato sector", the special virtual edition of the congress focused on the possibilities and challenges that digitalisation can offer to all-size companies in the potato sector.
If you missed the Europatat Congress 2021, you can now watch the full recording of the event.
For more information please visit www.europatatcongress.eu
Overview of the latest congresses
2003 – Oostende (Belgium)

2004 – Vienna (Austria)

2005 – Killarney (Ireland)

2006 – Copenhagen (Denmark)

2007 – Bratislava (Slovak Republic)

2008 – Berne (Switzerland)

2009 – Angers (France)

2010 – Edinburgh (United Kingdom)

2011 – Taormina (Italy)

2012 – The Hague (Netherlands)

2013 – Karlovy Vary (Czech Republic)

2014 – Brussels (Belgium)

2015 – Dusseldorf (Germany)

2016 – Brussels (Belgium)

2017 – Antwerp (Belgium)

2020 – Brussels (Belgium) – Due to the Covid-19 pandemic, the 2020 Europatat Congress was cancelled