The EU potato sector
Statistics on production and trade
The EU potato sector: statistics on production & trade
Eurostat data. Data extracted in May 2019
Harvest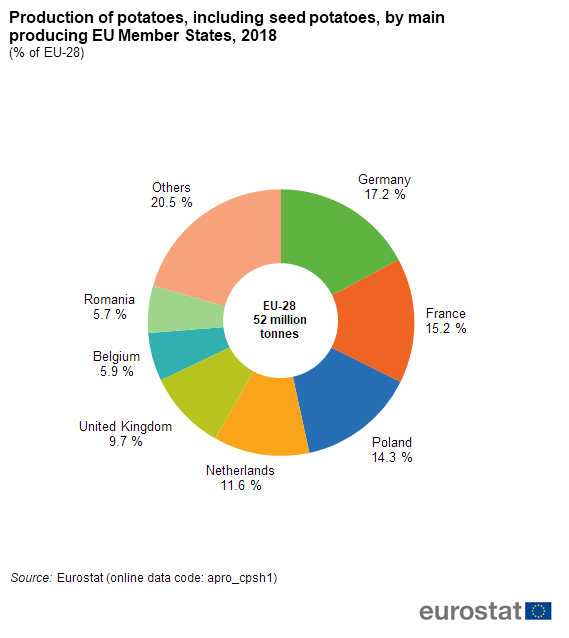 Potatoes belong to the most competitive segments of EU agriculture. However, due to the extreme drought that Europe suffered in the summer of 2018, the average potato yield slipped 14.6% in that year. Following this drop, 52 million tonnes of potatoes were harvested in the EU-28 in 2018, 16.3% less than in 2017 (according to official Eurostat data). Potato production is still mainly concentrated in seven Member States; Belgium, Germany, France, the Netherlands, Poland, Romania and the United Kingdom accounted for about three-quarters of the area planted (76.9 %) and of production (79.5 %) in 2018.
According to the North Western European Potato Growers association (NEPG), a total of 26 891 MT of potatoes were harvested in Belgium, France, Germany, the Netherlands and the United Kingdom in 2019. In that year, a record area of 613 946 hectares of consumption potatoes was planted in these five countries – 2.6% higher than 2018 and 20% more than 2012.
Values and prices
European raw potatoes were worth EUR 11.3 billion in 2017
The value at basic prices (i.e. including subsidies, but excluding taxes on products) of the raw potatoes (including seed potatoes) produced across the EU in 2017 was EUR 11.3 billion. This represented 2.7 % of the value of total EU agricultural output in 2017, a proportion that varied among Member States from 6.2 % in Belgium to 0.8 % in Hungary. Almost one half (48.1 %) of the value of potato production came from just three Member States: France (18.2 %), Germany (16.8 %) and the Netherlands (13.1 %).
Trade
Potatoes are traded mainly on the EU internal market. Member States export potatoes both outside and within the EU (to other Member States), the latter being far more significant in terms of both value and volume.
In 2018, Member States traded about 7 million tonnes of potatoes between themselves (Intra EU trade), the market value of which was EUR 1.7 billion:
Ware potatoes accounted for two-thirds (65.5 %) of total intra-EU potato exports in value terms; seed potatoes accounted for one quarter (25.2 %) of the total; early potatoes accounted for 7.6 %, with starch potatoes making up the remaining 1.8 %.
Three Member States accounted for two-thirds of intra-EU exports of potatoes in value terms: France (28.0 %), the Netherlands (23.3 %) and Germany (16.8 %).
Whereas France and Germany were the main export traders in main crop potatoes (36.8 % and 21.7 % respectively of the intra-EU total in value terms), the Netherlands was alone responsible for more than one half (58.2 %) of the value of all seed potatoes traded within the EU.
Compared to the volume and value of intra-EU trade, the EU imported few potatoes from non-EU countries: the EU imported 355 800 tonnes from abroad, to a value of EUR 127.9 million. Slightly more than three-quarters (78.7 %) of these imports were early potatoes: 280 000 tonnes (worth EUR 99.7 million) entered the European market, mainly from Egypt (61.3 %) and Israel (37.2 %).
tonnes of potatoes were traded between EU countries in 2018
million EUR was the value of the exported potatoes in 2018
The EU is a net exporter of potatoes: In 2018, 1.1 million tonnes of potatoes were exported with a value of EUR 495 million.
These exports were mainly seed potatoes (71.6 % in terms of the total value of potato exports and 54.4 % in terms of volume) and ware potatoes (27.0 % in value and 44.0 % in volume):
Egypt and Algeria were the EU's largest export markets for potatoes outside the EU (10.2 % and 10.0 % respectively of the volume and 13.9 % and 13.8 % respectively of the value), both exclusively for seed potatoes.
Norway was the largest importer of ware potatoes (10.1 % of the volume and 14.7 % of the value).
Given the principal export markets, the vast majority of potato exports were transported by sea (78.7 % in quantity) rather than road (21.1 %).
Among the Member States, the Netherlands was the leading exporter to countries outside the EU, accounting for more than half of all extra-EU exports of potatoes, both in terms of value (58.5 %) and volume (54.7 %).
The next largest exporter was France, accounting for a little more than one-seventh of extra-EU potato exports (13.7 % in value terms and 13.8 % in volume terms).