The Horizon 2020 EU project Accelerated Development of multiple-stress tolerAnt PoTato (ADAPT), in which Europatat is participating, aims to elucidate potato tolerance to single and combined abiotic stresses, and to develop new strategies for potato improvement. This interdisciplinary project is divided into six work packages (WPs), each executed by European experts in a broad range of fields, ranging from plant physiology to mathematical modeling.
One of the consortium's missions, led by WP2, is to profile the physiological and molecular response of different potato cultivars to heat, drought, and waterlogging stresses. A set of 30 potato cultivars were selected by plant scientists, farmers, and potato breeders within the consortium for studies in controlled glasshouse experiments.
The work plan started with an exploratory phase where the stress conditions and the most informative sampling points were determined. These two factors were preliminarily addressed through a pilot experiment hosted at the plant phenotyping platform of Photon Systems Instruments (PSI) in Czechia. There, the potato cultivar Desirée was exposed to heat, drought, and waterlogging stresses (single or combined), and plant responses were analyzed daily through High-throughput phenotyping (HTP) technologies.
Based on the major findings of this pilot experiment, WP2 members entered the second part of the exploratory phase where optimized setups and stress conditions will be implemented for determining the genetic variation in heat, drought, and waterlogging responses in potato. The ultimate goal is to identify tolerant and susceptible cultivars and elucidate the bases of these differences at the molecular and physiological levels.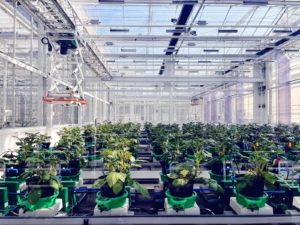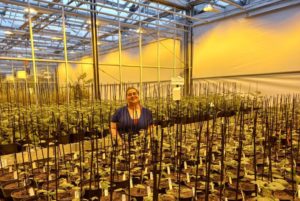 Glasshouse experiment at Netherlands Plant Eco-Phenotyping Center (NPEC) at WUR. Dr. Lucía Perez is leading the hands-on research on drought stress.
In 2021, researchers at Friederich-Alexander Universitat (FAU), Wageningen University and Research (WUR), and Utrecht University (UU) started the glasshouse experiments on the selected potato cultivars for heat, drought, and waterlogging stress, respectively. The glasshouse experiments succeeded in revealing genetic variation in stress responses, especially in agronomical traits such as harvest index and tuber yield. Interestingly, the researchers not only identified cultivars with stress-specific but also multi-stress tolerance or susceptibility, thus inspiring the entire ADAPT consortium to investigate this phenomenon.
Deep-phenotyping of a sub-set of three tolerant and three susceptible cultivars is planned for 2022. During this period, the phenotypic responses will be confirmed and correlated with gene expression analyses, thereby generating important information for subsequential stages of the project.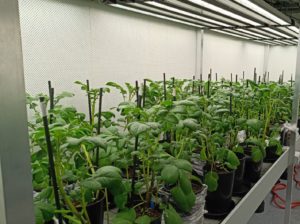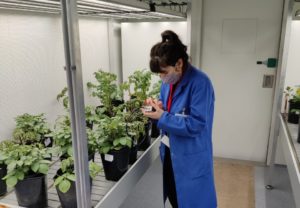 Glasshouse experiment at Netherlands Plant Eco-Phenotyping Center (NPEC) at UU. Dr. Natalia Rodriguez leads the hands-on research on waterlogging stress.
For more information about the project and the latest news, please visit our website at adapt.univie.ac.at or follow us on Twitter @eu_adapt.