Company Name: Pomuni
Year of foundation: 1928
Head office: Ranst, Belgium
Branch offices: Thorembais-les-Béguines, Belgium; Esquelbecq, France
Subsidiary companies: Pomuni Trade, Pomuni Fresh and Pomuni Frozen in Belgium; Pomuni France in France
Number of employees: 200
Activity: fresh and frozen potato products supply
Website: www.pomuni.com
About the company:
In 1928, the Muyshondt family established a trade company of fruit and vegetables focused on the Belgian local markets. From that moment, the business kept growing and expanded to neighbouring countries. After 40 years of presence in the European wholesale market, the Muyshondt company decided to focus its activity exclusively on potatoes at the beginning of the 1970s. Since then, the third generation of the Muyshondt's family took the reins of the business and started a process of specialisation and differentiation within the potato sector that led to the acquisition of a frozen potato products company and the construction of a new production site in Ranst. Later on, the Muyshondt's company expanded again with the acquisition of several companies in Belgium and France. It was at that moment when the family business was renamed as Pomuni.
Nowadays, Pomuni supplies retailers, wholesalers and food services with fresh and frozen potato products of the highest quality and traceability thanks to a washing, measuring and sorting line which is entirely operated by computer. Following the soaking, washing and drying process, the potatoes are digitally processed and sorted based on quality before being checked manually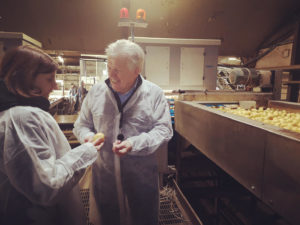 "As a quality product, potatoes require continual follow-up. We have an internal quality assurance service that closely follows and subjects each lot of potatoes to a battery of tests. This is the only manner in which we can guarantee clients and the consumers the absolute best potatoes and potato products down to even the finest details" – Jos Muyshondt, chairman of Pomuni's Board of Directors
In this sense, Pomuni Trade has recently received the highest BRC & IFS score, which contains a number of Food Safety regulations that are controlled unexpectedly during the yearly audits. This recognition also follows the refurbishment works carried out since 2017 at the new trade and frozen packaging halls. During 2019, coinciding with the transition from the third to the fourth generation of the family business ownership, a new phase of the reform plans will take place.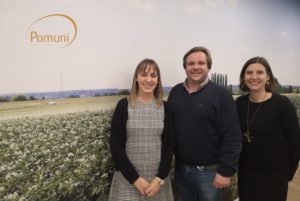 "We would like to open the new installations sometime in autumn 2019. We are convinced that the work done at Pomuni Trade and Pomuni Frozen will again enable us to respond better to the new trends in the food industry" – Ben Muyshondt, General Manager of Pomuni Trade and Chairman of Europatat's Packers Commission