Following the success of the promotion campaign "Potatoes, prepare to be surprised – Europe's favourite since 1536" that was launched in 2020 and finished at the end of last year, Bord Bia, Europatat and VLAM will continue with the programme's activities for three more years. The joint initiative, which is co-financed by the European Commission under the EU Promotion policy, will run until December 2025 to encourage the consumption of fresh potatoes among millennials in Belgium, France and Ireland.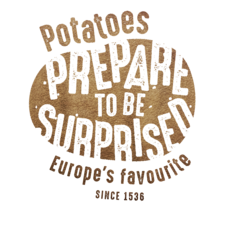 Fresh potatoes remain Europe's most popular main meal carbohydrate and are deeply anchored in the food habits of the European Union, however nowadays they face two main obstacles: a long-term decrease in their consumption; and a stagnation of their image as a traditional food. This trend has led to a decrease of potato consumption among the different age groups, especially in people between 18 and 34 year old living on their own, co-habiting or with young families (the so-called millennials).
To slow down this consumption trend, the new campaign will keep putting fresh potatoes back in the minds and lives of millennials with a clear message: potatoes fit in a modern, healthy and sustainable lifestyle of millennials, because they are a tasty, versatile and high-quality food with good nutritional and health benefits!
To inspire millennials to easily integrate potatoes into their daily lifestyle, 60 new surprising potato recipes will be added to the 300 ones available on the website www.preparetobesurprised.eu and social media profiles (mainly Instagram) for Belgium, France and Ireland. Next to that, a number of activations around the theme "potato surprises" (e.g. mini-events, contests etc.) with influencers will take place in the three countries along the next 3 years. Moreover, a series of "Did you know" animations showcasing cooking skills, potato storage and sustainability tips and facts will be developed in seven languages for reaching out a higher number of millennials in Europe.
The project "Potatoes, prepare to be surprised – Europe's favourite since 1536" is coordinated by VLAM with Europatat and Bord Bia as partners. The programme has a total budget of EUR 3,425,608.00 and requested grant of EUR 2,740,486.40 (80% of the total budget).
For more information on the campaign and our activities please contact:
• VLAM: info@aardappel.be
• Bord Bia: info@bordbia.ie
• Europatat: secretariat@europatat.eu